The City of Natal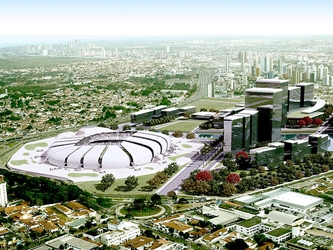 Natal is capital of the state Rio Grande do Norte, and one of the host cities of the 2014 FIFA Soccer World Cup. It is one of the top destinations in Brazil's Northeast region due to its natural beauty, rich culture, tourism infrastructure quality and its 300 sunny days per year in average. Natal metropolitan region has a population of about 1.2 million and is considered as one of the country's safest capital cities (source: Institute of Applied Economic Research of Brazil). Health, transit and security issues are minimal. Natal has several tourist attractions and is famous for its beaches and dunes, its historical monuments and buildings and also for its Brazilian biggest off-season carnival (Carnatal).
The city also boasts the second largest urban park in Brazil – the "Parque das Dunas". The city is fully prepared to receive a conference like ours today, but the scenario will be even better in 2014: Natal will host games of the soccer World Cup 2014 (June/July 2014) so all touristic infrastructures will be significantly improved over the next months.
The city's climate is tropical humid, with temperatures averaging around 26 °C. There are no significant changes in climate throughout the year, resulting in a warm winter, marked only by heavy rains between the months of April and August. Due to its privileged location on the continent, Natal receives a constant refreshing sea breeze, which makes the atmosphere more pleasant.