Conference Excursion
Half Day Wednesday Tours
Following iCACGP/IGAC Symposium/Conference traditions, the afternoon of Wednesday, September 24, will be free for exploring a bit of Natal and surroundings. We organized five different tours for you, to experience some of the beautiful sightseeing that the city and surroundings of Natal offers to the visitor. You may find more information on the tours and sign in to optional tours for this afternoon below. The costs of these tours are between US$ 30 and US$160, depending on the program. The fees should be paid directly to the agency LUCK (see form). LUCK will also be present in the conference venue's lobby for reserving tours and additonal short trips after the conference.
TOUR 1
H/D City tour – R$50,00 per person
Departure from CCN: 01 pm
Duration: 4 hours
Return: 05 pm
Minimum: 10 people
Maximum limit for this tour: 200 people
Beginning in the morning or afternoon at the hotels in Ponta Negra, the tour proceeds along the Via Costeira Highway to the urban beaches and the Reis Magos Fortress, where there is a short stop to visit the fortress. After driving through the districts of Santos Reis, Rocas and Ribeira – where the city began –, the city centre and cathedral, we visit the Handcraft market to know and buy souvenirs. The view of Morro do Careca (The Bald Hill) in Ponta Negra on the south of Natal ends the tour.
H/D City tour – R$50,00 por pessoa
Saída do Centro de Convenções: 13h00
Duração: 4 horas
Retorno: 17h00
Mínimo: 10 pessoas
Máximo: 200pessoas
Inicia-se à partir dos hotéis (Ponta Negra) conheceremos a Via Costeira, chegando à região das praias urbanas até a Fortaleza dos Reis Magos, onde faremos uma parada para a visita a suas instalações. Ao sair, cruzaremos os bairros de Santos Reis, Rocas e Ribeira, locais onde nossa cidade iniciou seu crescimento, o centro da cidade e a Catedral de Natal, antecedem nossa chegada a um centro de artesanato, parada com tempo para a apreciação e compras. A vista do Morro do Careca em Ponta Negra finaliza nosso passeio.
TOUR 2
Parque das Dunas with trekking (guided tour only) – R$55,00 per person
Departure from CCN: 01 pm
Duration: 3h30
Return: 4:30 pm
Minimum: 10 people
Maximum limit for this tour: 25 people
The Dunes State Park it is better known simply as Bosque dos Namorados (Valentine's Forest). It is a natural reserve of 1,172 hectares of Atlantic Forest in the heart of Natal. Considered the second largest urban park in Brazil has a great importance in the regulation of local climate, contributing to the recharge of the underground aquifer, fixing of dunes and air purification, besides being a beautiful landscape of the city. Access to the Parque das Dunas is given by Bosque dos Namorados, which has an area of approximately 7 acres with over 1300 trees representing 50 species native to the Atlantic Forest. There are three trails in Parque das Dunas, divided by difficulty levels, and allow visitors to learn more about the flora and fauna of the park.
Parque das Dunas com trilhas (com tour guiado somente) – R$55,00 por pessoa
Saída do Centro de Convenções: 13h00
Duração: 3horas
Retorno: 16h30
Mínimo; 10pessoas
Máximo de pessoas para esse passeio: 25pessoas
O Parque Estadual Dunas de Natal mais conhecido simplesmente como Parque das Dunas ou Bosque dos Namorados, é uma reserva de 1.172hectares de Mata Atlântica situada no coração da cidade de Natal. Considerado o segundo maior parque urbano do Brasil exerce uma grande importância na regulação do clima local, contribuindo com a recarga do aqüífero subterrâneo, fixação das dunas e purificação do ar, além de ser uma paisagem belíssima para a cidade. O acesso ao Parque das Dunas se dá pelo Bosque dos Namorados, que tem uma área de aproximadamente 7 hectares com mais de 1300 árvores representando 50 espécies nativas da Mata Atlântica. São diversos os atrativos que se pode conhecer através do Bosque dos Namorados. Existem três trilhas no Parque das Dunas, divididas por níveis de dificuldade, e que permitem ao visitante conhecer um pouco mais sobre a fauna e a flora do parque.
TOUR 3
Potengi River Sunset – R$60,00 per person
Departure from CCN: 03 pm
Duration: 4 hours
Return: 07pm
Mnimum: 10 people
Maximum limit for this tour: 100 people
The Sunset on Potengi River project is a show that involves nature, music and history. Tourists and Natal citizens come and enjoy the evening in one of the most beautiful Sunset of the Country, accompanied by a soundtrack performed by excellent local and guest artists. The musical repertory is especially designed to interact with the unique looks from dusk to sing songs classical, regional and Brazilian Popular songs. The French writer Saint-Exupery considered the Sunset sun Potengi one of the most beautiful in the world, that is the emotion that always dominates us.
Entardecer no Rio Potengi – R$60,00 por pessoa
Saída do Centro de Convenções: 15h00
Duração: 4 horas
Retorno: 19h00
Minimo: 10 pessoas
Máximo de pessoas para esse passeio: 100 pessoas
O projeto Pôr-do-Sol do Potengi é um espetáculo que envolve a natureza, música e história. Teve início em novembro de 2008. Nele turistas e natalenses vem desfrutar o entardecer em um dos mais belo Pôr-do-Sol do país, acompanhado por uma trilha sonora executada por excelentes artistas locais e convidados, o repertorio musical é elaborado especialmente para interagir com o visual peculiar do crepúsculo ao cantar músicas clássicas, regionais e de MPB. O escritor francês Saint-Exupery considerou o Pôr-do-Sol do Potengi um dos mais bonitos do mundo, um lusco fusco musical, eis a emoção que nos domina sempre.
TOUR 4
H/D Sunset at Genipabú Dunes – R$350,00 per person – 4 people per buggy
Departure from CCN: 01 pm
Duration: 5 hours
Return: 6pm
Minimum: 04 people
Maximum limit for this tour: 200 people
A half-day excursion follows the beaches of Redinha, Santa Rita, Genipabu, Barra do Rio, Graçandu and Pitangui. On the way, we climb the famous dunes of Genipabu, where where we can enjoy one of the greats sunset of city with a beautiful view of the natural lagoon of Jenipabú.
H/D Entardecer nas dunas de Genipabú – R$350,00 por pessoa – 4 pessoas por veículo
Saída do Centro de Convenções: 13h00
Duração: 5h00
Retorno:18h00
Mínimo: 04 pessoas
Máximo de pessoas para esse passeio: 200 pessoas
Passeio de meio período com saída de buggy do Centro de Convenções, atravessando a ponte Newton Navarro sobre o rio Potengi, percorrendo as praias de Redinha, Santa Rita, Jenipabú, Barra do Rio, Graçandú e Pitangui. No percurso, subida às famosas dunas de Jenipabú onde apreciaremos um dos mais belos entardeceres da cidade com a linda vista da lagoa natural de Jenipabú.
Form:

AUTHORIZATION FOR DEBIT IN CREDIT CARD - TRAVEL SERVICE
Formulário:

AUTORIZAÇÃO DE DÉBITO – VENDA COM ASSINATURA EM ARQUIVO

www.loja.luckreceptivo.com.br/Natal
E-mail: receptivo-nat@lukreceptivo.com.br
After Conference tour options
Dune Buggy Tour: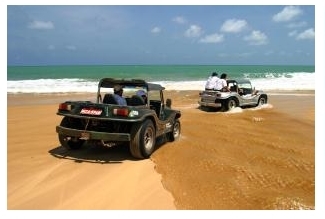 This tour to the sand dunes of Genipabu is 45 km away from Natal, and visits some of the most enormous sand dunes in the area. Your tour will last for about 8 hours, and you'll drive over 100 foot tall dunes in a buggy – going as fast or as slow as you tell your driver to go! There are also opportunities for camel rides, and more than ample photo ops on this unbelievable tour!


Snorkeling in Maracajaú: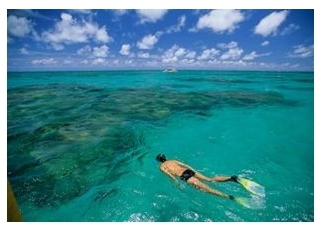 At a small fishing village about 40 miles away from Natal, there are about 28 square miles of coral reef, just waiting to be explored! The tour will leave from Natal and arrive at this village, called Maracajaú, known as the "Brazilian Caribbean", and each participant will have lessons on how to snorkel or scuba dive, and then be escorted to this breathtaking reef only 4.5 miles off the coast. This unbelievable reef is just teeming with exotic ocean life, tiny fish, vibrant plant life, and small octopi! Maracajaú, is a beach that offers natural beauty untouched by urbanization.


Pipa's Ecological Sanctuary:


Around 55 miles away from Natal, sightseeing opportunities await you at the Pipa beach. In the town adjacent to the beach, Pipa offers visitors an Ecological Sanctuary where you can learn about the wildlife of the area and the intricate balance of creatures who dwell in this part of Brazil. There is even a bay area here where the dolphins aren't shy and love to swim with visitors!

Galinhos: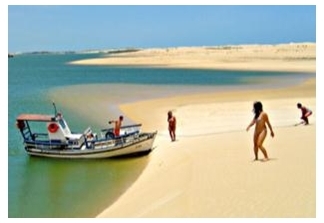 Located on the beautiful Costa Branca, Galinhos is an old fishing village with stunning natural surrounds. Home to a semi-deserted beach, the small town boasts enchantment, peace and quiet. Enjoy this great escape on a full day trip from Natal and prepare yourself to be amazed by Brazilian culture and nature.


Baia Formosa: Escape on a relaxing day trip to Baia Formosa for a day of relaxation, peace and natural beauty. Located just a scenic 60 mile (100 km) drive from Natal, Baia Formosa (Beautiful Bay) is home to a quiet fishing village, various beaches and a preserved forest rich in flora and fauna. Great for nature enthusiasts and those looking for a peaceful day on their vacation!


Barra do Cunhau: Prepare to be enchanted by the region's diverse combination of sea, river and vegetation. Cunhaú, untouched by urbanization, is a small fishing village located approximately 50 miles (80km) south of Natal. Take the opportunity to enjoy its tropical surrounds, white sandy beaches and cool blue waters!