Conference Venue
The Conference Venue is Natal Convention Center (NCC) . The NCC is one of the largest convention centers in Brazil, with more than 12,000 square meters of versatile conference space, including areas for posters, a variety of meeting rooms and a choice of plenary rooms, ranging from 100 to 4,500 people capacity.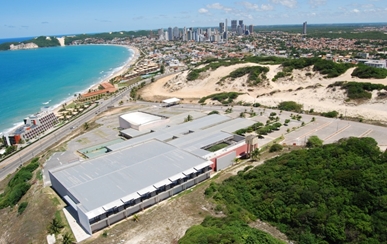 View from the north over the Natal Convention Center (front) and the famous quarter of Ponta Negra with its huge sand dune, the "Morro do Careca" (background) in the southern zone of Natal.

Some features of the NCC are:
Total area: 68,805 m²
Conference area: 12,739 m²
External area: 57,535 m²
Parking area: 6,997 m²
The center is strategically located at the Via Costeira, a 10-km long avenue by the shore where the main hotels are located. The Via Costeira also links the city center to Ponta Negra neighborhood, where a variety of hotels, shopping malls, restaurants and night life can be found. This way, NCC is an ideal venue not only because of its technology infrastructure but also because of the easy access to amenities and after-hours options. NCC has collective TV system with reception and distribution of open and cable TV signals plus the inner channels and security inner circuit.
Wireless internet is another advantage of the Natal Convention Center, which has an interactive totem with information about events.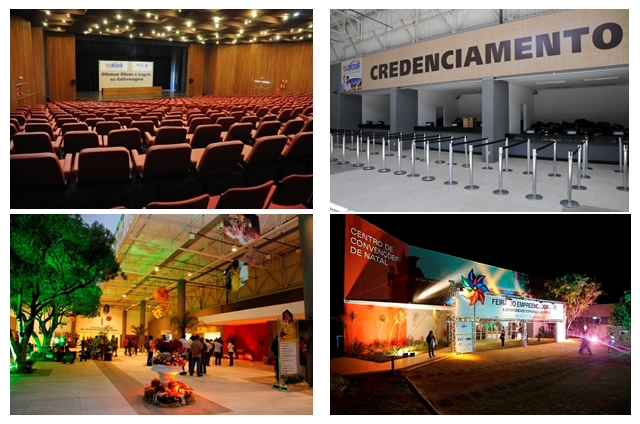 Parts of the Natal Convention Center that can be used for the IGAC&iCACGP OSC are shown. Upper left: The amphitheater for the Plenary Session; upper right: registration facilities and conference secretariat; lower left: The patio behind the main entrance; lower right: The main entrance of the NCC.

More information can be found at the NCC's web page www.centroconvencoesnatal.com.br (in Portuguese only).