Quantification of chemical emissions into the air is a key step in explaining observed variability and trends in atmospheric composition and in attributing these observed changes to their causes on local to global scales. Accurate emissions data are necessary to identify feasible controls that reduce adverse impacts associated with air quality and climate, to track the success of implemented policies, and to estimate future impacts. GEIA is a community effort that builds bridges between environmental science and policy, by bringing together people, data, and tools to create and communicate the highest quality information about emissions. GEIA seeks to enhance access to emissions data, facilitate analysis to improve the scientific basis for emissions information, and strengthen the emissions community.
GEIA currently has 6 Working Groups: China Emissions, VOC Emissions, Latin America/Caribbean Emissions, Urban Emissions, Africa Emissions, and COVID. The GEIA Network includes over 2000 members from all over the world. GEIA 2023 Conference will be June 21-23 hosted by Royal Belgian Institute for Space Aeronomy, Belgium.
For more information visit the GEIA Website.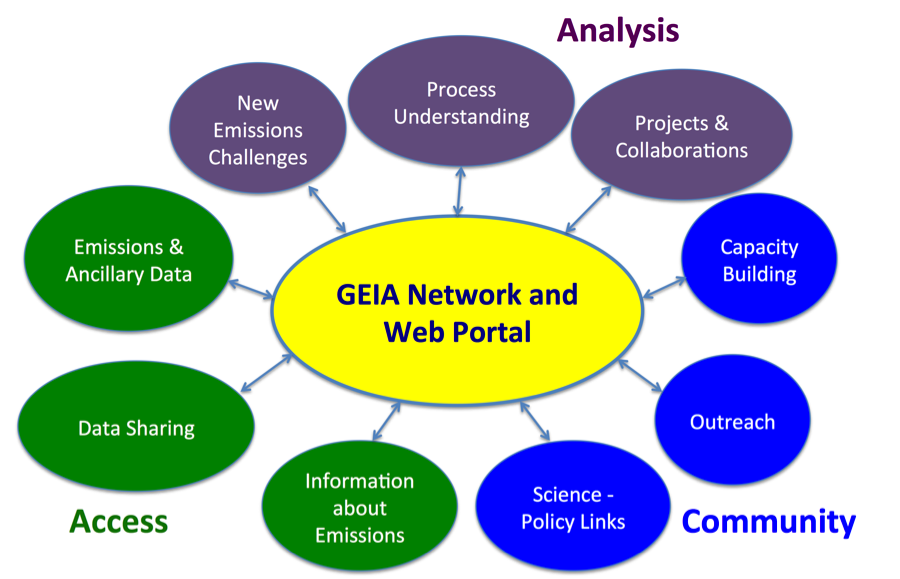 Visit the ECCAD-GEIA Portal
Visit the EMissions in South America (EMISA) website
---